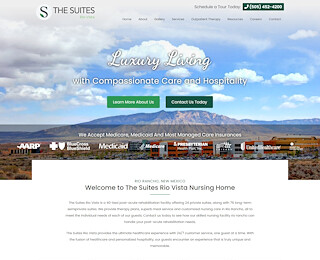 If you are looking for a skilled nursing facility in Albuquerque, look no further than The Suites Rio Vista. We have an experienced professional staff that is compassionate and caring.
What Is A Skilled Nursing Facility?
A skilled nursing facility has physicians, nurses, speech pathologists, occupational, and physical therapists that provide 24-hour healthcare and help with daily living activities. Skilled nursing facilities in Albuquerque can be costly for long-term stays.
Each patient that enters a skilled nursing facility can expect a different experience. Patient's needs will depend on why they are entering the facility. It is essential to realize some many federal rules and regulations apply to skilled nursing facilities. If you or a loved one may be entering a skilled nursing facility in Albuquerque, it might be in your own best interest to acquaint yourself with the laws and regulations.
How Will I Know A Skilled Nursing Facility Is Needed?
Typically, you will be assessed at the hospital before you are discharged. Your doctor will often want you to go to a skilled nursing facility if she/he believes it is crucial to your recovery and that it will enable your healing process to achieve optimal results. Examples when skilled nursing is necessary:
Chronic medical conditions
Diabetic rehabilitation
General Rehabilitation due to physical decline
Interim medical care after a hospital stay
Parkinson's care
Rehabilitation because of joint replacements or fractures
Respiratory Care
Terminal illness
Wound care
Some people will require a more permanent solution for their ongoing care needs, and a skilled nursing facility will help outline choices and options. If you are going to require a short term stay, you can be assured your visit will be pleasant if you choose a skilled nursing facility in Albuquerque that has your individual needs as their priorities.
The goal should be to regain and maintain the highest level of independence you can.
How Do I Choose The Right Facility?
There are several ways to choose the right facility for yourself or a loved one. You need to determine if they accept your insurance. You will also want to know what services they provide and how. If you are going to require any specialized services, it is critical to make sure the facility you choose has the expertise.
Visit two or three different facilities and see what they are like. What kind of setting does it have? Where is the facility located? If you are going to be there is a short term basis, decide what is important to you.
What is the quality of the food served?
Is their nursing staff professional and qualified?
Does the facility have a religious connection?
Are there select units for patients with dementia?
Check with your health care provider and find out which places they recommend and why?
Ask friends, family, and co-workers if they have any suggestions.
What services do they offer?
Do they have enriching activities for patients?
We hope you will think of us for your skilled nursing care in Albuquerque. Contact us at The Suites Rio Vista and let us give you a tour of our facility.
skilled nursing facility Albuquerque